Video Door Phone Intercom System: Switch to a more secured way of living – know who's at your door even before you open it, with the ultimate security solution. Apartment & Villa Video Door Phone Systems are available.
We offer long-range Video Door Phone Systems with the most recent features and technologies.
Smart systems are what users want, and we offer them a smart solution. The Video Door Phone Systems can be used wisely to protect your family and home.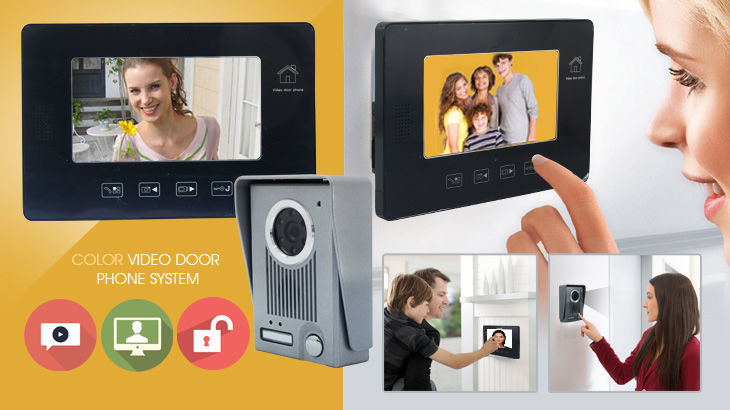 There are two main elements in a Video Door Phone System:
An Outdoor Camera Unit and an Indoor Phone. 
The outdoor camera unit, which is located at the gate, consists of a microphone and speaker, camera and a push button, while the indoor phone includes a display panel with a microphone and speaker. This indoor phone allows you to view and communicate directly with the visitor.
Type of Video Door Phone Intercom System:
With or without Door/Gate Access Control
What is a Video Door Phone?
Video Door Phones are intercom systems that can be used to make calls at the entry of buildings. They allow visitors to enter only if they allow. For additional safety and security purposes, video door phones can be easily integrated with Intrusion Alarm System and Access Control System.
Video Door Phone will help you secure your home or business.
Technology Partners & Brands we use for Video Door Phone System in Oman
We offer Video Door Phone solution throughout Sultanate of Oman including Muscat, Sohar, Duqum, Salalah, etc.
---
---
FAQ about Video Door Phone
Is the Outdoor Camera Unit waterproof?
Yes, the Outdoor Camera Units are waterproof.
Can I talk with the visitor and wise versa?
Yes, it's a Two Way Communication.
My House has two gates, can I connect my indoor video phone to two outdoor cameras?
Yes, depending upon a model you can connect two outdoor cameras units to a single indoor video phone.
Can I connect the video door phone to my I gate lock?
Yes, you can connect the video door phone systems to two different types of locks. Including electric gate locks, magnetic lock, bolt locks for doors, etc. This will enable the user to unlock the door or gate after confirming the person from the indoor unit.
Panasonic or Commax Video Door Phone system is best for my home?
Both the brands are widely used in Oman, and both are well known brands and is very good. So based on your features and budget we can suggest you the best option.
Do you provide the required cabling and setup in my home to install the video door phone system?
Yes definitely, we do the required cabling and setup even if you do not have any provision for the video door phone system.
Is it possible to use a RFID card to unlock the door from the outside?
Yes you can choose the device model which has the RFID Cards enabled for the outdoor camera unit.
Can I see the visitor at night in the video door phone?
Yes you can see the visitor at night also, because it has inbuilt photoresistor and IR LED to see at night.
Do you provide a complete video door phone solution for apartments & big buildings?