eSSL i9C Biometric Fingerprint Time Attendance Device and Software (For Oman)
The eSSL i9C is among the best biometric time Attendance currently available and for a valid reason. With the solid standing of the eSSL brand, the eSSL i9C features brand recognition with of the latest biometric fingerprint authentication system making the switch into a biometrics based time and attendance program a simple one. In case your company has been hesitant to make the jump into a biometrics based time and attendance program, you can put your worries to rest with among the best biometric time attendance currently available – the i9C by eSSL. Among the best-selling features of the eSSL i9C is that's a turnkey time and attendance solution that's ready to work directly from of the box.
No yearly contracts, per-seat licenses, or additional hassles to worry about if your organization has less than 500 users. With the i9C you Got more than that? No worries. This eSSL Biometric Time attendance is upgradable into any number of users. At any time you open the box, you will find all the hardware, software, and wires to get going right away. Quite a few other time attendance may appear affordable, but after you realize you want to buy the wall mounts, adapters, cables, power source and applications, the price can often double. For a budget, you have an awesome robust time and attendance solution.
So you have learned about biometrics and wondered how it functions? Well, it's simple. Biometrics describes an authentication method that uses a persons fingerprint to comprehend a person. Together with the eSSL i9C, a biometric fingerprint scanning device is used. Employees simply press their finger onto the scanning device and the system will watch them in or out in about 1 second. With most biometric scanners, the real fingerprint is never stored each say, only certain regions of the fingerprint that are utilized to create a distinctive identifier. One of the numerous reasons the i9C is among the greatest biometric time attendance systems is that's really is a turnkey solution.
The Software used for eSSL i9C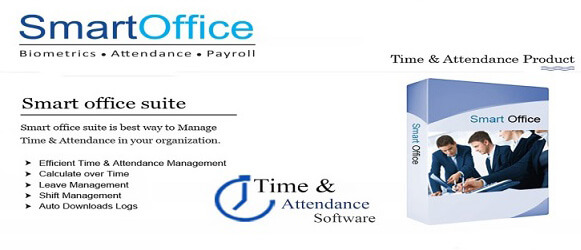 The Software used for eSSL i9C is Smart Office and it's extremely stable, dependable, and feature rich for a time and attendance program in this range of prices. The software easily installed on any Windows machine and even supports multiple languages. Among the features of the Smart Office Software is that it's integrated with lots of popular payroll applications. The Smart Office Software is quite simple into use and is customizable with its wide variety of reports. Among the greatest selling features of this attendance is that you could eliminate buddy punching where a worker will punch a coworkers time attendance so that they can arrive late, leave a bit early, or take a longer than scheduled lunch.
Time & Attendance System (Admin Menu Options of eSSL i9C)
---
Technology Partners & Brands we use for Time Attendance System installation in Oman
We offer Biometrics Fingerprint Time And Attendance solution throughout Sultanate of Oman including Muscat, Sohar, Duqum, Salalah, etc.